How to choose the right security guard booth?
How to choose the right security guard booth?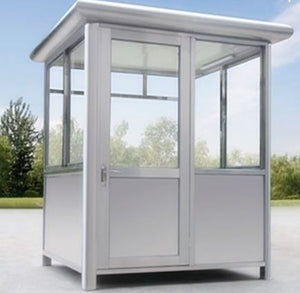 When you have a need for a guard booth or security booth, you might wonder how to choose the best one for your situation. The three main things to consider are size, style (architectural design) and options/features.

First of all, you need to choose the size of the guard booth. The size can be determined by how many security officers are needed in the security booth, how long they are to be on station (ie., is it a 24/7 gate?), and is also affected by any site conditions or limitations such as the size of the traffic island, is their traffic on both sides, how does the guard booth match up with the security needs of the surrounding buildings, traffic patterns, and access from outside the property being protected.

Second of all, you need to determine which booth style you prefer or require. The new guard booth may need to have a certain look to blend in with the neighborhood or factory for example. We also provide an architectural design to complement the surrounding or existing building design elements.

Thirdly, you should consider options and features in order to provide additional functionality and comfort for your security officers as well as increasing the security level. Some of the common options for a prefab guard booth or security booth include exterior floodlights, tinted and/or insulated glass, additional countertop space, finish flooring, additional convenience outlets, air conditioners, heaters, extended roof overhangs, restrooms etc.